Greeting from the president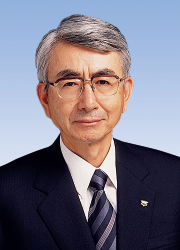 President & CEO
Since its establishment in 1938, TOHO CHEMICAL INDUSTRY Co., Ltd. has provided customers with highly functional chemical products such as special solvents, polymer additives and resin products, focused on surfactants.
In addition, in recent years, we have strengthened development into new fields such as electronic information industry related products.
In line with our management philosophy of emphasizing technology, we have consistently focused on strengthening our R&D and manufacturing technology.These efforts have resulted in pioneering products in various business fields as we meet the diverse needs of customers.
Using the various technologies that we have developed over many years as a foundation, we are striving to develop unique products by continuing to advance our technologies by applying and integrating them.
And, in response to customer needs, each division of Sales, R&D, and Production jointly contributes to solving customer problems such as function, quality, and cost promptly and accurately, to ensure that we earn their trust.
We celebrated our 80th anniversary on March 18, 2018.
Again, we thank you, our many business partners and other related parties, for your continued patronage and kindness over many years.
With the 80th anniversary of our founding in mind, we will continue to contribute to society with the power of chemistry from Japan to the world, challenging the possibilities of new fine chemicals while maintaining our good traditions with renewed energy.