Efforts for safety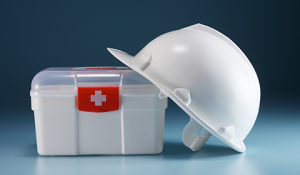 In October 2005, Toho Chemical Industry Co., Ltd., and its affiliated companies (Toho Chemical Industry group) prepared the code of conduct materializing requests from society and the things they have kept in mind in conducting business activities.
They also made and distributed cards enabling employees to carry the code of conduct at all times so that all employees could share the spirit of the code of conduct and try to penetrate and comply with the code of conduct through in-house education and discussions within the workplaces.
Additionally, we determined the resolution on "the basic policy for building the internal control system" at the board of directors' meeting in May 2006 to show the conditions of construction of internal control and the stance to future efforts.
Going forward, we hope that, amid seeking the significant theme of building the internal control system, we will meet the expectations of society and all parties related to the Toho Chemical Industry group by trying to share the spirit of the code of conduct, make arrangements for compliance, and make business operations more efficient and effective.
Safety and health policy
"We prepared the following safety and health policy, understanding that it is the foundation of corporate management and continuity to ensure the safety and health of employees."
To create safe and easy-to-work-in work environment, we conduct safety and health activities with employees to prevent industrial accidents and incidents.
We comply with the laws and regulations on safety and health and the rules set forth by us.
We attempt to reduce risk systematically by conducting risk assessment (assessment in advance of risk and noxious).
We firmly perform safety treatment of chemicals while ensuring the safety and health of employees.
We aim at conducting mental and physical balanced health management.
We attempt to continuously improve safety and health activities by setting targets for safety and health.